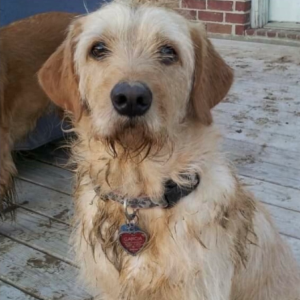 Guardian Veterinary Center is a family-owned practice founded by Dr. Andrew Garcia and his wife, Danielle Garcia. Danielle and Dr. Garcia both worked at several different practices for years before marrying and deciding to build a practice of their own.
One of the many decisions they had to make about the new practice was what to name it. They thought back to their early days together, and the story of one special dog named Annie.
It was 2011, and Danielle was working as a practice manager. One night, a little pregnant dog was admitted for an emergency C-section. When the dog woke from the anesthesia, she was confused, scared, and unable to nurse her three puppies. She had to have help, or the puppies would not survive.

Newborn puppies need to be kept warm, cleaned, and fed every few hours. While several people at the hospital offered to help, a week later, Danielle was the only one still caring for them. Andrew was working as a technician to gain experience for his vet school application. He filled in at Danielle's hospital to help out from time to time. He came in one day and noticed how tired Danielle was. Danielle explained that she had been feeding the puppies every couple of hours and caring for them by herself — all while still working a full-time job.
Andrew asked for Danielle's phone number and started to help her nurture the tiny orphans, and together, they made sure the babies thrived. When the puppies were old enough, Andrew and Danielle adopted one of the three. They named her Annie. In the years that followed, Annie grew and so did Andrew and Danielle's relationship.
Andrew and Danielle are still working together today, caring for animals. Unfortunately, they lost Annie to cancer in July 2020. When they decided to open a veterinary practice of their own with Andrew as the lead DVM, they named it Guardian Veterinary Center in honor of the "little Guardian Angel" who started it all—Annie.